Non-clinical careers at Parrish Healthcare give you the opportunity to provide healing experiences for our patients beyond their medical care. Many of these roles are entry level and give you a first step into building a career with a stable leader in healthcare. We're a great organization to learn, grow and find purposeful work in support of our mission, vision and values.
Why Parrish?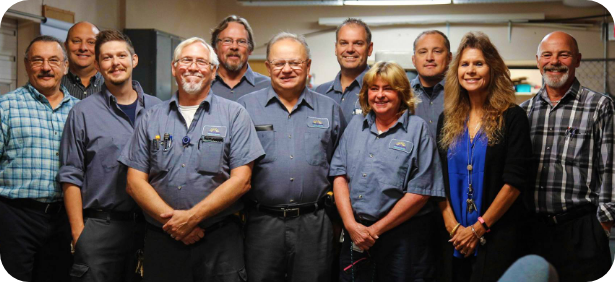 Every position plays a vital role in providing a positive patient experience.
You'll have the opportunity to build the long-term career you desire in one welcoming environment.
We support your lifelong learning and professional growth, with the potential to advance and roles across our system.
You'll enjoy the rewards of working with great people and caring for your family, friends and neighbors.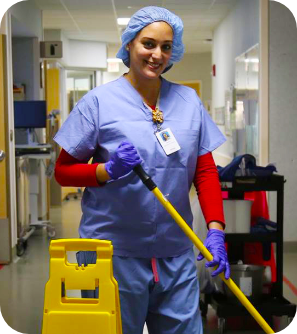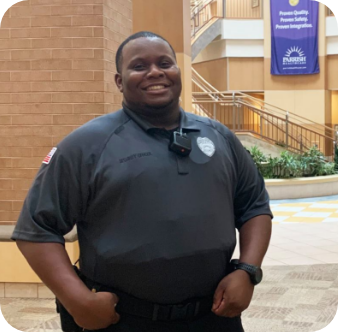 Key Roles
Schedulers
Whether processing referral orders, scheduling appointments or verifying insurance, you'll be supporting our patients right from the beginning.
Patient Account Representatives
You're responsible for the timely collection of accounts receivable in accordance with established policies and procedures.
Insurance Billers
Whether you submit insurance claims or ensure accuracy of billing data, your number skills help keep our operations running smoothly.
Medical Front Office Clerks — Parrish Medical Group
As the point person for our patients and visitors at Parrish Medical Group locations in Titusville, Port St. John and Port Canaveral, you set the tone for our positive healing experiences.
Food Service Workers
Food service workers perform a wide variety of duties at Parrish. Positions include Hosts, Cashiers, Cooks and Dishwashers.
Environmental Service Workers (Housekeeping)
You're ready to do whatever it takes to keep our healing environments clean. Housekeeping tasks may include cleaning of floors, offices, corridors and other areas throughout Parrish Medical Center facilities.
Security Officers
Parrish care partners, patients and visitors rely on you to always keep them safe. You'll prevent and deter fire, theft, vandalism, illegal entry and more by presenting a uniformed presence ready to rescue, protect and defend.
Patient Transporters
You support Parrish Healthcare's mission by providing safe, friendly and organized transport of patients into, around and out of our facilities.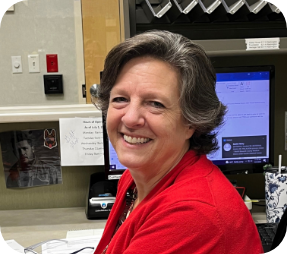 Jackie
Administrative Assistant
"Parrish fosters a culture of compassion to be a healing environment. For 25 years, I've seen the hard work we all do for our patients and our community, and I've had many opportunities to grow. The healthcare system knowledge I've gained is priceless."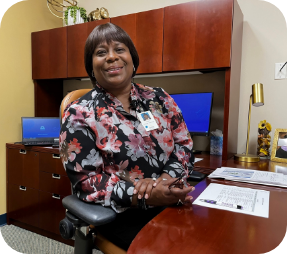 Tommi
Director, Finance
"Hands down, Parrish Healthcare is the best place to work in Brevard County! The work is fulfilling, the environment is beautiful, and the culture is caring and supportive. Your fellow Care Partners and leadership set Parrish apart."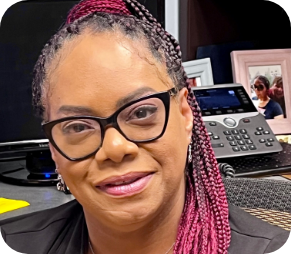 Julia
Executive Director, Human Resources
"Parrish's values are second to none. Our culture provides that sense of "I belong here". Being a rehire, I feel like the prodigal daughter, joyful to return to my family and to a healing environment that nurtures opportunities to develop your knowledge, skills and life."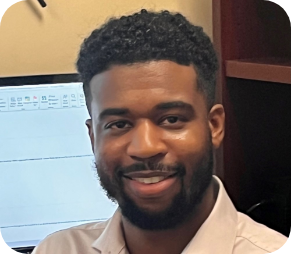 Damont
Director, Materials Management
"Healing Experiences for Everyone All the Time... let that sink in. Here at Parrish everyone experiences something different daily. For me, I get to work along side some of the best of the best care partners in Brevard County while providing that healing experience. The family environment, leadership, and mission make me want to give excellence in all that I do here each and every day."